Tags
Artur Pawlowski, Artur Powlowski, British Columbia persecution, Canadian pastor imprisoned, Christian persecution in Canada, churches taking a stand in canada, Edmonton pastor jailed for holding services, Erin Coates, Fairview Baptist Church in Calgary, godly shepherds, Grace Community Church Canada, Henry Hildebrandt, Imprisoned Canadian Pastors, Imprisoned pastor in Edmonton Alberta Canada, Interview of Pastor Artur, James Coates, Pastor Artur, Pastor Artur Powlowski, Pastor Henry Hildebrandt, Pastor Jacob Reaume, Pastor James Coates, Pastor Pawlowski, Pastor Reaume, Pastor Stephens, Pastor Tim Stephens, Pastors who are true shepherds, Persecution in Alberta, Persecution in British Columbia, persecution in Canada, Persecution in Edmonton, Persecution in Nova Scotia, Persecution in Ontario, real pastors, Riverside Calvary Church B.C. Canada, silencing the churches in canada, the arrest of Pastor Artur, The Church of God Aylmer, Tim Stephens
Yes. Our Canadian brothers are being persecuted right now. This article contains various videos and articles updating the progress regarding the persecution of several pastors in Canada. It begins with the oldest video. Indeed, just like Jesus said, persecution is on the rise and will continue to rise as the days grow darker. It is all the more important that we work while it is still day and redeem the time for the days are evil. On top of that, may we not cease to pray for our fellow Christians, that they may face persecution with dignity and grace and in the power of the Holy Spirit.
With Grave Sincerity,
Holy Light Ministries
For more on the rise of persecution around the world and in the U.S. feel free to connect with these links:
"Worldwide Persecution," https://holylight4u.wordpress.com/worldwide-persecution/
"American Persecution," https://holylight4u.wordpress.com/persecution/
"B.C. church fined $2.3K for violating COVID-19 ban on worship services," November 2020, https://www.cbc.ca/news/canada/british-columbia/b-c-church-fined-2-3k-for-violating-covid-19-ban-on-worship-services-1.5821450 Quote: "Churchgoers say ban on religious services violates their Charter rights." One such church member is Tonya Gaw. "Gaw said rising levels of depression and anxiety are signs that people need places like churches to remain open. "The church is the community for many people," she said. Gaw said she thinks the rising number of COVID-19 cases is due to faulty testing, which is causing false positives. "The deception to the public is instilling this unbelievable fear," she said. "All of it needs to stop. And we're pleading with the government to just stop the whole thing.""
"B.C. churches issued tickets totalling $18,400 for breaking pandemic rules," December 18, 2020, https://www.cbc.ca/news/canada/british-columbia/b-c-churches-issued-tickets-totalling-18-400-for-breaking-pandemic-rules-1.5848330 Quote: "The RCMP say they have served tickets totalling $18,400 to representatives from three places of worship in British Columbia's Fraser Valley for violating public health orders." One of the three was the Free Reformed Church in Chilliwack, B.C.
"Anti-church gov't overreach common in British Columbia," January 12, 2021, https://onenewsnow.com/church/2021/01/12/anti-church-govt-overreach-common-in-british-columbia Quote: "Some attendees of Riverside Calvary Church believe the government is exceeding its authority in shutting down Christians' freedom to worship, with one member saying the fine was a clear illustration of government "overreach."…assistant pastor Randy Dyck [says], "Every government is soon going to force a very different – and sadly, very evil – lifestyle on the world," Dyck declared in a YouTube video that he posted last week. "The reality is that the Bible teaches a world government that will be anti-God and a world government that will reject the Scriptures [will come into power in the End Times].""
"Canada No Longer Feels Like A Free Country," April 7, 2021, https://spencerfernando.com/2021/04/07/canada-no-longer-feels-like-a-free-country/
Update: March 15th
"UPDATE: Wife of Jailed Canadian Pastor Shares Details of Husband's Ordeal Behind Bars," https://www1.cbn.com/cbnnews/world/2021/march/update-wife-of-jailed-canadian-pastor-shares-details-of-husbands-situation-behind-bars (This is in Alberta, Canada which is the province to the right of and right next to British Columbia.)
Update: April 2nd
"Canadian pastor jailed for disobeying COVID-19 lockdown rules says inmates strongly support him," April 2, 2021, https://www.christianpost.com/news/canadian-pastor-jailed-for-holding-in-person-worship-sevices-says-inmates-support-him.html
"GraceLife pastor James Coates handed $1,500 fine, is released from remand centre," March 23, 2021, https://www.msn.com/en-ca/news/canada/gracelife-pastor-james-coates-handed-dollar1500-fine-is-released-from-remand-centre/ar-BB1eQsZ1?ocid=uxbndlbing
Update: April 6th
"Breaking! Police and Security Put up Chain-link Fence Around Gracelife Church," https://protestia.com/2021/04/07/breaking-police-and-security-put-up-chain-link-fence-around-gracelife-church/ QUOTE: "In a completely unprecedented move, police and security arrived on site in the middle of the night and put up a chain and wire fence around Gracelife Church in Edmonton, Alberta, home of previously imprisoned Pastor James Coates, in order to keep them out and prevent them from gathering for further services until they comply with shutdown restrictions." This article also contains a quote from Pastor James Coates' wife Erin Coates on her Instagram account. Mrs. Coates ends by saying, "I pray for all the pastors and Christians that still think this is about a virus and health order. Clearly our Charter and criminal code mean nothing as long as the government can come up with a good enough story to disregard it. God have mercy on our nation. I pray for their souls. They are clearly under Your judgment."
Update: April 7th
Update: April 8th
Update: April 11th
"Protesters tear down then rebuild metal fences, denounce closure of GraceLife church," https://toronto.citynews.ca/2021/04/11/hundreds-gather-to-denounce-closure-of-gracelife-church/
Update: May 4th (Coates, Reaume, and Pawlowski)
Updates on Pastor Coates, Trinity Bible Chapel, and Pastor Artur Pawlowski (both in Alberta Canada): "Canadian Crackdown on Christians Who Refuse To Limit Worship Gatherings," May 2, 2021, https://www.youtube.com/watch?v=XkZZ6S4DUes
Trinity Bible Chapel and Pastor Jacob Reaume (in Ontario, Canada)
"Canadian Church has 26 Charges Before the Courts and Faces $30,000,000 in Fines + Jail Time," April 14, 2021, https://protestia.com/2021/04/14/canadian-church-has-26-charges-before-the-courts-and-faces-30000000-in-fines-jail-time/
"After $40,000,000 in fines, Police To Lock Doors and Take Over Canadian Church," May 1, 2021, https://protestia.com/2021/05/01/after-40000000-in-fines-police-to-lock-doors-and-take-over-canadian-church/
"Doors locked at Trinity Bible Chapel after court order," May 2, 2021, https://www.cbc.ca/news/canada/kitchener-waterloo/trinity-bible-chapel-doors-locked-1.6010996
Pastor Coates
"Pastor James Coates' Trial Starts Today: How You Can Watch," May 3, 2021, https://protestia.com/2021/05/03/pastor-james-coates-trial-starts-monday-how-you-can-watch/
Update: May 8, 2021 (Coates, Reaume, and Pawlowski)
As of today, May 8, the trial of Pastor James Coates (Alberta, Canada)will reconvene June 7th when the Judge is supposed to announce his decision. Pastor Jacob Reaume (Ontario, Canada) explains what has been happening to himself and the members of his church. He personally has been fined $900,000 plus the possibility of time in prison, his church has been fined 50 million, and the government changed the locks on his church's doors — in other words, he's been locked out of his own church. Why? Because he dared to obey the Lord by meeting together with his church in spite of the government's unconstitutional, unbiblical orders. And Pastor Arthur Powlowski (Alberta) had a warrant out for his arrest, and is to go to trial for contempt of court on Tuesday May 11th.
Pastor Artur Pawlowski was just arrested today, May 8th, while on his way home from church. A horde of police pulled him over on a busy highway, blocked off part of the highway with many police vehicles –you'd think he was a violent, dangerous drug lord–, hand cuffed him in the middle of the street, and dragged him away.
Update: May 9, 2021 (Pawlowski)
In the interview below, Pastor Artur relates covertly via his wife's phone, that the police nearly broke his shoulder during the arrest, that he was thrown into the back of the police vehicle and then driven an hour and a half to the prison where he was placed in a cell without a bed, without a blanket, without a pillow, without a chair, with bright lights that they did not turn off all night, where he stands for hours on a hard, cold, cement floor. They will not allow him to speak with his lawyers nor his lawyers to speak with him. The police on occasion come and stare at him through the bars. All in all, his voice was calm, and he sounded peaceful in spite of the cruel circumstances.
Update: May 10th (Pawlowski)
Sarah Miller, one of Pastor Artur's legal team, comments on his case. She states that "his detention so far has been quite bizarre…" His lawyers are puzzled that he is still being held and why it took the authorities so long to get him in touch with his legal counsel. Pastor Artur's brother David (who also was arrested) is the one who actually was able to contact the legal team. https://www.rebelnews.com/pastor_artur_pawlowskis_lawyer_next_steps_on_fair_hearing_after_arrest_for_contempt_order
According to Rebel News in Canada just minute ago, "Sarah Miller and her legal team at JSS Barristers have been working tirelessly to secure the release of Pastor Artur Pawlowski and his brother David Pawlowski. This morning, they succeeded in their mission. I joined Sarah live for an update on the legal developments moments after court proceedings came to a close." "BREAKING: Lawyer confirms Pastor Artur's RELEASE from jail is imminent," May 10, 2021, https://www.rebelnews.com/lawyer_confirms_pastor_artur_release_from_jail_is_imminent
"Pastor Artur Pawlowski's release DELAYED officials at Remand Centre," https://www.rebelnews.com/pastor_artur_pawlowski_release_delayed_by_rogue_guards
"Update 6:30 p.m. MT/8:30 p.m. ET: Pastor Artur Pawlowski is finally released." Though initially they delayed the release, he has now been released.
"Pastor Artur Pawlowski is FREE — but why did the guards refuse for hours to let him out?" https://www.rebelnews.com/pastor_artur_is_free_but_why_did_guards_delay
Update: May 11, 2021 (Church in Nova Scotia)
"Nova Scotia RCMP issue $74k in COVID fines at small town Weston Christian Fellowship Church," May 11, 2021, https://www.rebelnews.com/nova_scotia_rcmp_issue_74k_in_covid_fines_at_small_town_weston_christian_fellowship_church On Sunday May 10th police met 26 adults (counted as age 16+) arriving to attend church, and after each remained regardless of police warnings to leave, they fined each adult $2,422. On top of that they fined the church $11,622.50. Why? Because in Nova Scotia "faith gatherings" are no longer "allowed."
Update: May 17th (Hildebrandt, Stephens and Coates)
Pastor Henry Hildebrandt (in Ontario, Canada just like Pastor Reaume is)
Pastor Tim Stephens (in Alberta, Canada just like Pastor Coates and Pastor Pawlowski)
Pastor Stephens was arrested in front of his wife and 8 crying children on Sunday May 16th following the church service. Though they are following the Constitution of Canada, new restrictions contrary to that Constitution are being enforced per a judge's orders and via willing police. In so doing, this pastor has joined the multitude of other persecuted believers around the world and throughout history.
"Calgary pastor arrested after months of defying COVID-19," May 16, 2021, restrictionshttps://calgaryherald.com/news/local-news/calgary-pastor-arrested-after-months-of-defying-covid-19-restrictions Quote: "…In a letter published to Fairview Baptist Church's website on May 5, Stephens said the limit to church capacity would change nothing."Our actions are borne out of theological commitments to the Lordship of Christ and his instruction to the church as revealed in Scripture," Stephens wrote."
Pastor James Coates
Pastor MacArthur received first hand info from Pastor Coates in Canada stating that the courts up in Canada have ruled that no church can be restrained from gathering/meeting. However, one judge can rule one thing and another judge can rule another way. So, there is no hard, fast rule regarding churches in Canada. That being said, at least Pastor Coates' church appears to have been given some freedom back. However, per a different Bible Thumping Wingnut not listed here, James Coates and his church are still meeting in secret, undisclosed locations.
Update: May 18th (Pawlowski, Stephens and Coates)
Pastor Artur
"SHAMEFUL: Arsonists attack Pastor Artur's home in Calgary," May 17, 2021, https://www.rebelnews.com/arsonists_attack_pastor_arturs_home_in_calgary
Pastor Stephens, Pastor Artur and Pastor Coates
Pastor Tim Stephens
May 21, 2021 (Pastor Stephens and Pastor Coates)
It is important to note that the arrests of these pastors may not have to do with preaching the gospel (as the Bible Thumping Wingnut pointed out), BUT they do have to do with the nature of the Church. The mandate is against "gatherings" and that is what the Church technically is: the "gathered together/assembled ones". https://holylight4u.wordpress.com/2020/07/28/the-church-to-assemble-or-not-to-assemble/ Thus, the secret, May 6th mandate was demonically inspired, for it's very design, in effect, shuts down the "gathered together ones" – the Church. Indeed, the entire "plandemic" is from the pit of hell meant for the demise of the Church.
Pastor Coates so graciously pointed out in the above video that a court of Alberta, Canada secretly, even covertly created a mandate. This mandate was inspired by a particular restaurant (the Whistle Stop), and sought to prevent the owner from protesting the government shutting down his restaurant. However, the wording in the mandate of May 6th did not specify the restaurant but can be taken to include anyone gathering together in Alberta. Thus anyone gathering can be arrested on the spot because of this May 6th court order.
Then, on May 13th, this mandate was amended in court, making it applicable to only the restaurant owner. However, days later on May 16th Pastor Tim Stephens was arrested anyway, because they said only part of the mandate was amended not the whole. The pastor's arrest is now being challenged in court.
Pastor Tim Stephens is awaiting his trial on June 16th. As far as I can tell at this point, He is still in jail because his release was conditional. His lawyers were/are working to remove those conditions. He cannot in good conscience agree to the conditions. Where he is being held he describes as a "very dark place" and is honored to share in Christ's sufferings that he might be more like Christ. Please remember him in prayer (Hebrews 13:3).
May 26, 2021 (Pastor Stephens)
Pastor Pawlowski
"LIVE UPDATES: Pastor Artur Pawlowski's contempt of court hearing," May 26, 2021, https://www.rebelnews.com/pastor_artur_pawlowski_may_26_2021_contempt_of_court Quote: "Court will be adjourned on this hearing to June 28 for a decision. Same day at the decision for the morning's hearing." Pastor and brother must be in attendance that day." Yet another allegation of contempt will be decided on June 28th as well.
May 28, 2021 (Tim Stephens)
"AHS drops contempt of court proceedings against Pastor Tim Stephen," May 28, 2021, https://www.jccf.ca/ahs-drops-contempt-of-court-proceedings-against-pastor-tim-stephens/
Quote: "The Justice Centre for Constitutional Freedoms is pleased to announce that the Alberta Health Services (AHS) Contempt of Court Application against Calgary pastor Tim Stephens, of Calgary's Fairview Baptist Church, has been abandoned by AHS and will not be going to a hearing…
The arrest and confinement of Pastor Stephens was unlawful for two reasons. First, the Thursday, May 6, 2021 injunction, which originally applied to all Albertans who had notice of its terms, was amended by Associate Chief Justice Rooke on May 13 to only apply to Whistle Stop Café and individuals operating in concert with or under the direction of Whistle Stop Café or its proprietor. Pastor Stephens has no connection to either party.
Second, Pastor Stephens was never served with a copy of the court injunction, a prerequisite for the enforcement of an injunction. On May 9, 2021, Calgary Police Service (CPS) officers erroneously served a copy of the injunction upon another individual who is not Pastor Stephens. At no time did CPS ever serve the injunction upon Pastor Stephens…
The arrest of Pastor Stephens occurs against the backdrop of the Justice Centre's ongoing legal challenges in two separate court actions against the Alberta lockdowns. To date, the Alberta Government has failed to produce any medical or scientific evidence, in either court action, that might justify its public health orders as required by the Charter. Lawyers for Alberta have repeatedly delayed court proceedings with procedural motions and adjournments rather than face judicial scrutiny of the health orders…
AHS boasted in a May 6 news release that it "sought and received a court order against all other organizers of advertised illegal gatherings and rallies breaching COVID-19 public health orders." Suddenly, Albertans gathering outdoors in numbers larger than five could be locked up in jail immediately, without any ability to defend themselves against unconstitutional health orders…
On May 13, 2021, the Justice Centre appeared in court to amend the AHS injunction, such that it would no longer apply to every Albertan…
After the amendment, the Justice Centre informed the Calgary Police Service and other police forces in Alberta that the order no longer applied to the public at large, but only to certain individuals affiliated with Whistle Stop Café. The police continued to make arrests even after being informed of this court order amendment, presumably on the instruction of AHS.
"Covid does not suspend or nullify people's Charter rights. In wrongfully arresting and imprisoning Pastor Stephens, AHS proved once again that it is far more interested in punishing dissent than paying attention to legal details, like requirements for notice and the constitutional constraints on its power", states Mr. Cameron.
"By waging constant war on civil liberties and by refusing to justify demonstrably, with evidence put before a court, the ongoing violations of Charter rights and freedoms, it is AHS and the Alberta government who are disobeying the rule of law.""
June 14, 2021 (Tim Stephens)
"Breaking! Pastor Tim Stephens Arrested After Police Helicopters Find Secret Church," June 14, 2021, Locationhttps://protestia.com/2021/06/14/breaking-pastor-tim-stephens-arrested-after-police-helicopters-find-secret-church-location/ Quote: "Canadian Pastor Tim Stephen of Fairview Baptist Church in Calgary has been arrested again for the great crime of holding a church service in Canada, being led away by the police and taken to jail in what will be his second arrest for insisting that Christ is the head of the church and determines how and when they gather, not the government.This new arrest comes a month after his previous incarceration, where he spent a few days in jail before being released, with the charges being dropped several weeks later.In Alberta, it is against lockdown orders to have churches at more than 15% capacity.The church was gathered at an undisclosed location when a police helicopter discovered the gathering. It made several passes over them, crisscrossing the skies, and then left, with police cars showing up at the service minutes later. No arrests were made at that time."
"'Give Unto Caesar': Alberta Pastor Jailed Again After Police Helicopter Finds Secret Church Gathering; Officer Quotes Jesus To Justify Arrest," June 15, 2021, https://www.dailywire.com/news/give-unto-caesar-alberta-pastor-jailed-again-after-police-helicopter-finds-secret-church-gathering-officer-quotes-jesus-to-justify-arrest Quote: "As he left his home while his children began to cry, Stephens referenced when Alberta Premier Jason Kenney and members of his cabinet were caught breaking their own COVID-19 rules this month during a dinner at the Sky Palace on top of the Federal Building in Edmonton."It's incredible, it's incredible," he said. "They can have their gathering in the Sky Palace, and yet a pastor who gathers for church outside is being arrested. Because the rules certainly don't apply to everyone equally, and they're not enforced to everyone equally. Like, why is it pastors that keep getting arrested from this?"…After blaming the pastor for creating the unpleasant situation, the officer later suggested that obeying Alberta's lockdown order was like when Jesus said Jews should pay taxes to the Roman government. "Even God said, you know, 'Give unto Caesar what is Caesar's,' right? So we're not getting into this philosophical debate," he argued. "And the gathering of the church is not Caesar's," Stephens retorted. "So that's why we're gathering.""
"Premier Of Canadian Province Jailing Pastors Caught Violating Own COVID-19 Rules 24 Times During One Dinner," June 8, 2021, https://www.dailywire.com/news/premier-of-canadian-province-jailing-pastors-caught-violating-own-covid-19-rules-24-times-during-one-dinner Quote: "Alberta Premier Jason Kenney, whose province has jailed multiple pastors and locked churches because of COVID-19, violated his own restrictions and guidelines 24 different ways during a dinner with members of his cabinet last week.Kenney apologized Monday after stoking outrage and calls to resign after he was secretly photographed…"
July 2, 2021 (Updates on Pastors James Coates, Tim Stephens, and Artur Pawlowski)
"Alberta pastor, brother, café owner guilty of contempt for breaking COVID-19 health rules," June 28, 2021, https://www.cbc.ca/news/canada/calgary/alberta-men-contempt-covid-public-health-1.6083003?fbclid=IwAR0GfewSOAQZ-CMcPc4_cAuZecgyfATZjLbnbPF1uUMAXv2H0gdKd8N9lA4
Note: The above link is regarding Pastor Artur and his brother Dawid. They will be sentenced by July 27th. Please keep them and their families in your prayers. Since the Rooke Order they violated is now null and void as of July 1st, pray that they might find favor with the court and that their sentencing will be cancelled as well.
Furthermore, according to Rebel News, "…pastors, like Pastor Artur Pawlowski, are counting on donations from concerned Canadians like you to fight for their religious freedom. If you want to help go to SaveArtur.com."
Thank you.
"Pastor Coates gets GraceLife Church back on Canada Day," June 22, 2021, https://westernstandardonline.com/2021/06/pastor-coates-gets-gracelife-church-back-on-canada-day/?fbclid=IwAR2ujfjkCK6vTR3hMM_or2Z3PgS3SWAG1S_T0lSkMhhYu_eGKpmM-5thqdw Note: The three-deep fences around his church came down and the locks came off, and the church building was indeed returned to Pastor Coates and his church family. Praise the Lord!!!
"Breaking! Pastor Tim Stephens Released from Prison. All The Canadian Pastors are Out," July 1, 2021, https://protestia.com/2021/07/01/breaking-pastor-tim-stephens-released-from-prison-all-the-canadian-pastors-are-out/?fbclid=IwAR0cuw6cWEnzk77cZI5cqH1UDHVR1WEhUNfZ5KoApaqsBgkHKOO6wIt8Ddg
"EXCLUSIVE INTERVIEW: Pastor Tim Stephens Released From Calgary Remand Centre," July 1, 2021, https://www.rebelnews.com/pastor_tim_stephens_released_exclusive_interview?fbclid=IwAR3bJMMFipK1zP2AKM-3G3qz2AtHS6ghEZACCqWBUrsnlY_Ly8PAMz7TLlI QUOTE: "Pastor Tim Stephens still faces a July 14 court date which will ultimately determine what if any consequences he may face for his faith convictions, but for now the Stephens family is simply happy to have Tim back at home."
Here is a very moving, stirring, powerful, and inspiring facebook post by Pastor Tim Stephen's wife Raquel: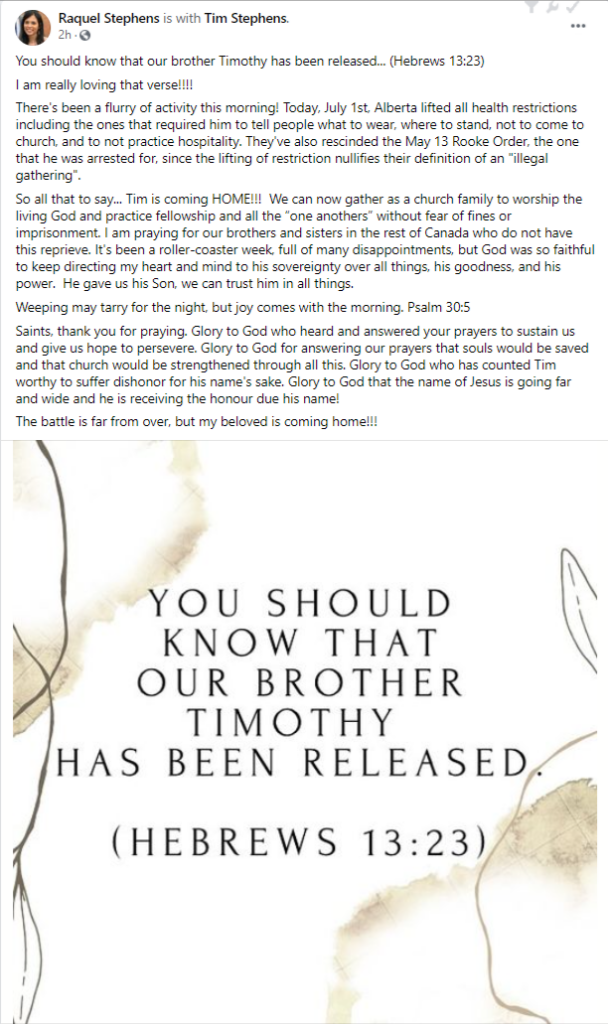 "Canada's phased border reopening to begin July 5. Foreigners will still have to wait," June 21, 2021, https://www.politico.com/news/2021/06/21/canada-us-border-reopening-july-5-vaccine-495335?fbclid=IwAR0GfewSOAQZ-CMcPc4_cAuZecgyfATZjLbnbPF1uUMAXv2H0gdKd8N9lA4
"Why Canada is divided over reopening despite controlling COVID-19," July 1, 2021, https://www.cbc.ca/news/health/canada-reopening-covid-19-delta-variant-1.6087003?fbclid=IwAR0Cf9k667vihC4OwrkU799Yzi8d7iWZZ0iTuwxCdfPsgH0cRqy-qOJvc8Q
July 16, 2021 (Canada Church Burnings)
"Ongoing church burnings are Canada's equivalent of BLM," July 16, 2021, https://gospelnewsnetwork.org/2021/07/16/ongoing-church-burnings-are-canadas-equivalent-of-blm/
Quote: ""All of a sudden Canada looks a lot like the Soviet Union," Carlson began."Seem like we're exaggerating a little bit? Well, they're burning Catholic and Anglican churches in recent days. Leftist groups are. But Canada's leaders aren't condemning the burning of churches. No, they're endorsing the burning of churches," he continued."
"At Least 45 Christian Churches Set on Fire In Canada as Attacks Escalate," July 15, 2021, https://www.faithwire.com/2021/07/15/at-least-45-christian-churches-set-on-fire-in-canada-as-attacks-continue-to-escalate/
Quote: "Keean Bexte tweeted CounterSignal.com's interview with the church's pastor."We are refugees. We escaped from Vietnam to come here to get more freedom, to live, and we think it was a good country – and now it happened to our church," Pastor Nguyen said. "Maybe it is not safe to be here in Canada compared to Vietnam.""
September 28, 2021
As of September 27th, Artur Pawlowski was rearrested. After 4 months of traveling in the U.S. to warn against evil, he was arrested upon returning to Canada. Below is the Twitter post and video footage. Please, keep him in prayer.
https://mobile.twitter.com/seanfeucht/status/1442637889586692099?fbclid=IwAR0oaNXx388uF0oykQxFGJVXgq9ffT5TjGI8JZMJ2SWSE612oWjnFJY3O3g
******************
HolyLight Ministries will be updating this article as new stories come to light. These are the main sources of this ongoing article. Feel free to refer to them on your own:
https://www.rebelnews.com/ and https://protestia.com/ and https://biblethumpingwingnut.com/