Tags
1 Corinthians 2:14, AMTV, Christopher Green, Coverstone's Data Dream, Coverstone's dream of lady liberty, Coverstone's Hold Your Breath dream, Coverstone's tree dream, Coverstone's Vision of an old woman becoming a young woman, Dana Coverstone's dream of Lady Liberty, Dana Coverstone's dreams, Deuteronomy 13, Deuteronomy 18, dreams and visions from God, dreams from God, End Times, False Prophets, False teachers, Fresno Awakening, John 16:13, Lady Liberty, Last Days, Let us worship, Mario Murillo, NAR, New Apostolic Reformation, Pastor Coverstone's dream of December and January, Pastor Coverstone's dream of Lady Liberty, Pastor Coverstone's dream of November, Pastor Coverstone's dream of October, Pastor Coverstone's dream of September, Pastor Coverstone's dreams, Pastor Dana Coverstone's Dreams, Prayer March 2020, Revival in Fresno, Sean Feucht, Tent Crusade in Fresno, The Return, The Spirit leads us into all truth, Vision of Bride, visions from God

Amos 3:7, "Surely the Lord God does nothing, Unless He reveals His secret to His servants the prophets."
Have you been jaded through the multiplicity of false prophecies of false prophets? How about all those "feel good" words from the Lord that never came to pass? There are MANY false prophets out there, most of whom are under the auspice of the New Apostolic Reformation. For them a prophet is "learning" and it does not matter if they are 100% accurate in their prediction. Here is an excellent article on this topic: "When a Prophet Speaks and His Words Do Not Come to Pass," http://www.letusreason.org/latrain23.htm. However and in spite of the NAR's excuses (even through the deft misuse of Scripture), God's word says otherwise. For more info on the "Kundalini" spirit behind this and the evil that is being called good, please tune into Andrew Strom's "Kundalini Warning," https://www.youtube.com/watch?v=EXolizIy6_g
However, there is such thing as a real prophet. And Pastor Coverstone appears to be one of those (though he NEVER calls himself one), for one after one of his dreams are coming to pass. I will continue to observe and keep this post updated…
This brief article is to point out that Pastor Coverstone's dreams appear to have come to pass and appear to be coming to pass. According to Deuteronomy 18, this is one of the ways to know if a dream or word is from the Lord. The other way to know is found in Deuteronomy 13. It is there that things get more tricky because God is testing His people. Basically, if the dream or vision or word comes to pass, but the dreamer of that dream then encourages people to follow after other gods, false doctrine, or anything that leads them away from the truth, then the man dreaming it is a false prophet.
Upon examination thus far, Pastor Coverstone is not such a false prophet. And though Pastor Coverstone does not deem himself to be a prophet in any way, God appears to have made him one on behalf of Himself to this nation. After all, through these visions and dreams God's message of warning and repentance is resounding across America. Indeed, Pastor Coverstone does appear to be God's prophet to America, and the word of the Lord through Him does appear to be coming to pass. For God does not bring anything upon a nation until He first warns them. Amos 3:7, "Surely the Lord God does nothing, Unless He reveals His secret to His servants the prophets." Through Pastor Coverstone God appears to be doing this.
More than anything, however, I encourage everyone to get back to the Word of God. No matter how real a dream, no matter how incredible the fulfillment, everything must align with God's Word. How will you know if a dream or vision or prophecy aligns with God's Word unless you are in the Word constantly and hold it in highest honor? There is a lot of double speak out there. There are a lot of false prophets who quote scripture and then dream something contrary to scripture. But, how will you know this unless you are rooted and grounded in God's Word.
Do you think reading and understanding God's Word is rocket science? It's not! But, it is spiritually discerned (1 Corinthians 2:14). In other words, only Christians can understand it as the Holy Spirit leads us into all truth (John 16:13). For it is only the Spirit that knows the mind of God. So, you do your part: read. And let the Spirit do His part: lead you into all truth.
NOW, here are some of the ways that Pastor Coverstone's dreams have come to pass so far. To begin with, the dream he had back in December of 2019 came to pass regarding the hospitals, people on ventilators, people wearing masks, fearful people, angry protestors, barriers in cities, courthouses surrounded, burning cities, absolute chaos. To view this dream connect with this link:
Yet another dream, which is mentioned at about the 4 minute and 50 second mark of the same above video, is also coming to pass. In that dream, called Part 2, Pastor Coverstone saw the calendar again, this time flipped to September, then October, and then November. A fist then hit November, and chaos ensued. Businesses were shuttered; there was armed fighting in the streets; the evaporation of monetary wealth, Washington D.C. burning, politicians making backroom deals, and schools were completely closed to the point of cobwebs hanging in the classrooms. Interestingly enough, all of this already happening. Schools are closed. Businesses have been shuttered. And of course politicians are always making deals, the demonically inspired BLM is about to explode, and anyone paying attention to the economy right now knows that something odd is brewing and all is on the verge of collapse.
He yet dreamed another dream (In June) in which he was going to the bank where he was greeted by the president of the local bank. He told her that he needed $10 in quarters for a yard sale. It was then that she let him that she couldn't give him what he wanted because the U.S. Mint was no longer making change. Plus, she told him to prepare for hyper inflation, and for $1 and $5 bills to follow soon after that. https://www.youtube.com/watch?v=6TdpMSMP9x4 (this dream mentioned at the 9 minute mark). This dream has indeed come to pass.  "Yes, There's A National Coin shortage," July 21, 2020, https://www.usatoday.com/story/news/factcheck/2020/07/21/fact-check-america-midst-national-coin-shortage/5439455002/ and "National Coin Shortage: Pennies, Nickels, Dimes, Quarters, Part of Latest COVID-19 Shortage," June 20, 2020, https://www.usatoday.com/story/money/2020/06/20/coronavirus-shortage-coin-supply-pennies-nickels-dimes-quarters/3230828001/
*********
And then there's the dream of the wolves who sit in the pews, stir up the sleeping people, and then surround the preaching pastors. Basically, it is about attacks on the pastors who are told by the courts and those even in their congregations to be quiet about moral issues etc. There will be threats; there will be intimidation; there will be protests against the churches. It is a sinister and dark dream, and it is coming to pass as well. Here is the link to the dream. 
Here are some links of how it is coming to pass:
"2700 Evangelicals Warn Against Politicizing Coronavirus Urge Christians to Take Vaccine," August 20, 2020, https://www.christianpost.com/news/2700-evangelicals-warn-against-politicizing-coronavirus-urge-christians-to-take-vaccine.html
"The Supreme Court Upholds Abortion Rights…" June 30, 2020, https://theintercept.com/2020/06/30/louisiana-abortion-law-supreme-court/
Supreme Court ruled in favor of governors dictating to churches during states of emergency. This was an unprecedented, unconstitutional decision. "Supreme Court Denies Plea from Nevada Church That It is Hurt While Casinos Reopen," July 24, 2020, https://www.washingtonpost.com/politics/courts_law/supreme-court-denies-plea-from-nevada-church-that-it-is-hurt-while-casinos-reopen/2020/07/24/9b99cbf8-cc48-11ea-91f1-28aca4d833a0_story.html
"Supreme Court Rules That LGBT Americans Are Protected from Discrimination," June 16, 2020, https://www.houstonpress.com/news/us-supreme-court-rules-in-favor-of-lgbt-rights-11477420
For a host of links regarding Christian persecution that has come to America, check out this link: "Persecution in America Has Arrived," July 21, 2020 — with updates, https://holylight4u.wordpress.com/2020/07/21/christian-persecution-in-america-has-arrived/
**********
Here is yet another dream Pastor Coverstone posted on Facebook July 26th. To view this dream, please connect with this link:
(Even if you are not on Facebook you should be able to view this). In summary, this dream was about how in the month of August a demonic war will be waged against Christian ministers sexually, including lust and pornography; divorces among pastoral staff will rise, and such sin will be exposed. He goes on to say that there are a type of "demonic sleeper cells" working against the ministers and through the ministers and against Christian marriages via sexual oppression, depression, suicide, and drug overdoses. The main thrust of the dream had to do with Christian ministers coming under attack, and Pastor Dana emphasized praying for the pastors. Furthermore, in the dream he mentions United States Postal Service cutbacks (at about the 3.5 minute mark), unemployment being up to 50%, and the coming violent outcry against our government.
In confirmation of this dream, a friend of mine had a dream before ever hearing Coverstone's dream, and in my friend's dream their pastor divorced his wife. My friend was shocked upon awakening from such a dream! And then my friend opened their phone to my message about Coverstone's dream, and proceeded to watch it. My friend was beyond stymied!
Well, in a few ways at least this dream is finding fulfillment.
On August 7th Jerry Falwell Jr. was put on and agreed to an "indefinite leave" of absence from his job as chancellor of Liberty University.  https://www.forbes.com/sites/jemimamcevoy/2020/08/07/jerry-falwell-jr-put-on-indefinite-leave-after-latest-in-a-long-string-of-scandals/#398bb438319a Really, this is nothing new for the Falwells: https://washingtonpress.com/2019/06/19/jerry-falwell-jr-s-pool-boy-scandal-just-escalated-with-nude-photo-revelation/ Then, on August 26, 2020 it was declared that Jerry Falwell, Jr. resigned as president of Liberty University. "Jerry Falwell Jr. Confirms He Has Resigned from Liberty University," https://www.theguardian.com/us-news/2020/aug/25/jerry-falwell-jr-resigns-liberty-university-backtracks
Other ministers are also coming up against exposure as well, such as Evangelist Perry Stone Jr. Here is the Voice of Evangelism's official statement: https://media.timesfreepress.com//news/documents/2020/07/30/1596142257_VOE_Media-Response_TFP.pdf
Update 11/10/20
On top of this, divorce in the U.S. has risen dramatically since the planned pandemic hit. Here is an article regarding that:
Divorce rates in America soar 34% during COVID; surge not unexpected, says Rose Law Group Partner and Family Law Director Kaine Fisher
Furthermore, there are suicides happening too, as well as an increase of people calling in to suicide hotlines (https://www.sacbee.com/news/coronavirus/article241493126.html; https://www.kxan.com/news/coronavirus/are-suicides-on-the-rise-during-the-covid-19-pandemic/).
"'Broken-Heart Syndrome' Has Increased During Coronavirus Pandemic, Study Shows,"  July 11, 2020, https://www.foxnews.com/science/broken-heart-syndrome-increased-coronavirus-pandemic
Furthermore, the Post Office has been in the news recently. "Washington's Attorney General 'considering all of our legal options' about changes to the postal service," https://www.newsbreak.com/news/2041200211928/washingtons-attorney-general-considering-all-of-our-legal-options-about-changes-to-the-postal-service?s=oldSite&ss=a4;"If the U.S. Postal Service Fails, Rural America will Suffer the Most," https://www.vox.com/identities/2020/4/16/21219067/us-postal-service-shutting-down-rural-america-native-communities; "USPS Removes Mailboxes, Shuts Down Letter Sorting Machines, As Mail-In Voting Looms," https://www.huffpost.com/entry/trump-usps-mailbox-mail-in-ballot-louis-dejoy_n_5f36f7adc5b6959911e471de?guccounter=1&guce_referrer=aHR0cHM6Ly93d3cuYmluZy5jb20v&guce_referrer_sig=AQAAALRP4eQ8UVdO0FK0uWL28_Wg89NgKexZ3T_WZ_xeRtK-nwftVa76N487_00o05Q0uvXsZGk5RmbWOgBNaRjRQD1l1TkhjXOPZE2s0mSGNtq6VQVI9o-2ykCqdfUXz_Lp4tsYhV6J9Jr3w6seWCwlyVNDsGL76KLHWEW_9H2hGtBg
Update: Still observing the unfolding drama…
"House Passes an Additional $25 Billion for Postal Service as Trump Tweets Opposition," August 23, 2020, https://www.usatoday.com/story/news/politics/elections/2020/08/22/usps-house-vote-bill-preventing-changes-and-providing-25-billion/3400617001/
Nevertheless, there are still ongoing lawsuits and strange issues transpiring…
"Factbox: A State by State Look at Some of the U.S. Postal Service's Cuts," August 19, 2020, https://www.reuters.com/article/us-usa-election-post-office-states-factb-idUSKCN25F2A1?ocid=uxbndlbing
"Washington Postal Workers Defy USPS Orders and Reinstall Mail Sorting Machines," August 22, 2020, https://www.forbes.com/sites/danielcassady/2020/08/22/washington-postal-workers-defy-usps-orders-and-reinstall-mail-sorting-machines/#64ec3bed5f80
To be continued…
And then there's the epidemic of unemployment that is still presently unfolding…
"Many Companies Turning Temporary Furloughs into Permanent Layoffs," August 21, 2020, https://www.zerohedge.com/personal-finance/many-companies-turning-temporary-furloughs-permanent-layoffs?fbclid=IwAR0Auuo7xkYoM_GVESXQ93E_ZlJgxdig3q_xR5_wisQ9CSsu9lgftUw-LLY
"IRS Projects Millions of Jobs Will Vanish for Years," August 21, 2020, https://www.zerohedge.com/personal-finance/irs-projects-millions-jobs-will-vanish-years?fbclid=IwAR23OUy0lAB6eVyKu0XeouB1vN5nboWi5mZZu65fzRG3wLivij5K1L-pU5w
Update 12/03/2020
"We Haven't Seen This Much Suffering on Thanksgiving Since the Great Depression," November 27, 2020, https://www.zerohedge.com/personal-finance/we-havent-seen-much-suffering-thanksgiving-great-depression?fbclid=IwAR37Ciu3AF8pceOhdz-uTlV3xKV7iwBa7Lzrh4HQqoDFuC9fAb3KUseGKaE
Quote:
"Thanks to the new lockdowns that are being instituted all over the country, the number of Americans that are filing for unemployment benefits is starting to rise again…"The number of Americans applying for unemployment benefits rose last week to 778,000, evidence that the U.S. economy and job market remain under strain as coronavirus cases surge and colder weather heighten the risks.The Labor Department's report Wednesday said jobless claims climbed from 748,000 the week before. Before the virus struck hard in mid-March, weekly claims typically amounted to roughly 225,000." Overall, more than 70 million new claims for unemployment benefits have been filed in 2020. As I discussed yesterday, we have never seen anything like this before in all of U.S. history."
*********
Below are several more dreams regarding America for the months of September, October, November and December of 2020 as well as January 2021. There are also additional dreams which will continue to be added as Coverstone shares them.
September Dream:
This September dream was FULFILLED. The Church rallied, repented and prayed up a storm. The fires of persecution are on the rise all across America, and the fires of revival have been popping up all over the nation as well, from California, to Texas, to Kentucky, to D.C., from events such as The Return, Prayer March 2020, and "Let Us Worship" rallies led by Sean Feucht being held in many cities across America. And even now, Evangelist Mario Murillo is answering God's call to hold a tent crusade in Fresno, CA. in spite of restrictions and whatever might be leveled against him. Before his group even set up the tent, they have been going through the city, and people are coming to Jesus left and right, black and white. God is on the move!!!
"College Football Coach Ousted for Posting 'All Lives Matter to Jesus,' Sign," https://www.christianpost.com/news/college-football-coach-ousted-for-posting-all-lives-matter-to-jesus-sign.html
"Christian Persecution has Arrived in America," (contains list of states and their persecution of Christians and info on the pending lawsuits), https://holylight4u.wordpress.com/2020/07/21/christian-persecution-in-america-has-arrived/
Mario Murillo Tent Crusade article
IT IS THE MOMENT I HAVE BEEN WAITING FOR. Tent Revival Re-Starting – Mario Murillo
October dream:
This is the October dream's link via facebook, https://m.facebook.com/story.php?story_fbid=10223283065174706&id=1527064913
The dream of October has glimpses of voter suppression, false prophets being exposed, leaders ready to explode, etc. Here are a few links regarding this exact issue, and thus, is a partial fulfillment of this dream.
Leadership
11/25/2020
The firecracker leadership portion of the dream definitely appears to be coming to pass right now. And anyone can look it up to see it. The state governors are having power truly go to their heads. Oregon's governor is threatening people with arrest and telling police to disregard calls about drugs and to instead check on people's Thanksgiving gatherings. Portland can burn down at the hands of protestors, but law abiding families cannot meet for Thanksgiving or else they'll be charged with a misdemeanor. California's governor has called for Californians to cease traveling and limit Thanksgiving gatherings to no more than 3 families outdoors, while he recently was caught dining indoors with a group of unrelated people at the French Laundry restaurant and proceeded to fly to Hawaii for the holiday. In Maine a local restaurant is under severe legal fire by the local state government after the owner appeared on FOX news. Pennsylvania's government is restricting the sale of alcohol the day before Thanksgiving. Thus alcohol is non-essential. New Mexico's governor just ordered a lot of the state's grocery stores to be closed for two weeks, and those allowed to remain open have heavy restrictions on how many can enter at a time. This is causing many to stand in line for hours just to get necessities. Thus, food is non-essential. In Los Angeles (this is the only county in California doing this) all restaurants have been ordered to stop serving outdoors by the LA County Department of Health even though they have none of their own county data to prove the necessity of this decision, and the one who officially declared this does not even have a medical degree nor is she elected. Nevertheless, power has gone to these leader's heads, and they are ready to blow.
12/04/2020
Quote from the article below: "In addition, the Governor has reduced the capacity of the stores that remain open to the point that many in New Mexico are being forced to wait in line for hours just to get food and supplies."
New Mexico gov. shuts down some grocery stores with new order
"New Mexico governor shuts down grocery stores for two week," November 24, 2020, https://www.msn.com/en-us/money/markets/new-mexico-governor-shuts-down-grocery-stores-for-two-weeks/ar-BB1bjNgk
"Governor deploying state police to enforce COVID orders; tells residents to calls the cops on those resisting masks, social distancing," (Oregon) November 23, 2020, https://www.stardem.com/emergency_notice/governor-deploying-state-police-to-enforce-covid-orders-tells-residents-to-calls-the-cops-on/article_ba389da7-bb06-5ced-99da-38de3599cf52.html
"Maine officials repeatedly hound restaurant owner over COVID-19," November 25, 2020, https://www.msn.com/en-us/travel/article/maine-officials-repeatedly-hound-restaurant-owner-over-covid-19/vi-BB1bkox3
"Bar owners, managers bemoan restriction as Wolf blocks alcohol sales on night before Thanksgiving," November 24, 2020, https://lancasteronline.com/news/local/bar-owners-managers-bemoan-restriction-as-wolf-blocks-alcohol-sales-on-night-before-thanksgiving/article_a77f23e4-2df7-11eb-afb2-c73a0115c83a.html
"Restaurants Question L.A. County's Shutdown of Outdoor Dining," November 23, 2020, http://www.sfvbj.com/news/2020/nov/23/l-county-shuts-down-outdoor-dining/
"LA County to Shut Down All Indoor and Outdoor Dining Before Thanksgiving," November 23, 2020, https://townhall.com/tipsheet/juliorosas/2020/11/23/la-county-to-shut-down-all-indoor-and-outdoor-dinning-before-thanksgiving-n2580508
"California Governor In Hot Water For Attending Dinner Party Amid COVID-19 Surge," November 18, 2020, https://www.huffpost.com/entry/california-governor-gavin-newsom-french-laundry-dinner-party_n_5fb561bcc5b664958c7d153f
"Criticism as US lawmakers fly to Hawaii luxury resort for conference as Americans are told to avoid travel due to Covid-19," November 18, 2020, https://www.rt.com/usa/507022-lawmakers-hawaii-conference-covid19/
"Lobbyists, Govt Officials Gather in Hawaii Despite Lockdowns,"(Quote: "About 100 lobbyists and government officials, including nearly 20 lawmakers from California, Texas, and Washington, are gathering at the Fairmont Kea Lani on the island of Maui in Hawaii this week despite restrictions in their home states barring large gatherings because of new outbreaks of the novel coronavirus."), November 16, 2020, https://www.newsmax.com/politics/maui-covid-lawmakers-resort/2020/11/16/id/997330/
"New York Democratic Leaders Caught Maskless At Private Party Despite COVID Restrictions," November 21, 2020, https://dailycaller.com/2020/11/21/new-york-democrat-maskless-private-party-covid/?fbclid=IwAR1ugynd65fEgr4TGYNJ3yPIWnhTrYEa_ruP5lvZActznRelgy2rw9Mphew
"Amid COVID Spike, N.J. Governor Shuts Down Indoor Sports, Including Swimming," https://www.newsbreak.com/news/2115734274948/amid-covid-spike-nj-governor-shuts-down-indoor-sports-including-swimming?s=oldSite&ss=a99
Voting
"Trump Predicts Election Victory in Early-Morning Address, Calls Ballot Count Delay Fraud," https://news.yahoo.com/nr-live-blog-election-night-235022849.html
"Trump Backers Demand Michigan Vote Center "Stop the Count!" https://www.chron.com/news/article/Protesters-gather-near-White-House-no-wide-15699961.php
"Detroit Chaplain Says Black Vote Will Not Be Deterred By Stop the Count Protest: "We've Gone from Picking Cotton to Picking Presidents," https://www.msn.com/en-us/news/politics/detroit-chaplain-says-black-vote-will-not-be-deterred-by-stop-the-count-protest-we-ve-gone-from-picking-cotton-to-picking-presidents/ar-BB1aHu5J?ocid=uxbndlbing
"Long Lines at Georgia Polling Place Prompt Hysterical Accusations of GOP 'Voter Suppressio'," October 14, 2020, https://www.msn.com/en-us/news/politics/long-lines-at-georgia-polling-place-prompt-hysterical-accusations-of-gop-e2-80-98voter-suppression-e2-80-99/ar-BB19ZfvT?ocid=uxbndlbing
"Virginia Election Officials Ask Court to Extend Voter Registration Deadline After Website Crash," October 14, 2020, https://www.cbsnews.com/news/virginia-voter-website-outage-cut-cable-final-day-registration-election/
"Voter Suppression in a Pandemic," October 14, 2020, https://www.commondreams.org/views/2020/10/14/voter-suppression-pandemic-election
False prophets of the NAR
"What God's Prophets Are Saying About President Trump, Impeachment and America's Future," (These prophesy falsely about America and God's judgment, denies an immanent economic crash, and says other other odd things),  https://www.elijahlist.com/words/display_word.html?ID=22611
Declare that Trump will have a second win. https://www.charismamag.com/blogs/prophetic-insight/46917-trump-receives-prophetic-word-i-am-giving-him-a-second-win
Lou Engle: "Trump, the Jehu Anointing & the 22 Word Prayer," https://www.elijahlist.com/words/display_word.html?ID=24469
Declare that a "Jezebel Capture" will happen in October. Little do they know, the spirit over them is Jezebel!
National Prayer Summit with NAR coming up October 30th and 31st, 2020 —
(Sadly, I must note, that Mario Murillo will be in attendance at this summit. I am not aware of him being NAR, but most if not all the others of those in attendance are NAR and are false.) https://www.elijahlist.com/words/display_word.html?ID=24412&fbclid=IwAR2iaFLTyu84KUzHKf6Yo06pw0AlumZ8k5yYe7bF4IxIAYJXJYpHCQbO4go
Other false and mixed signal "prophetic" predictions can be found at the Elijah List website. It is imperative to note, that all of these so-called prophets and prophetesses not only back Trump, but see him as Cyrus the great, the superhero of heaven, savior of the U.S., and that if one does not vote for him then they are in the wrong boat. If this is really what God wants, time will tell.
Here are a few sources regarding why the NAR are false prophets and false teachers:
The New Apostolic Reformation: Influence and Teachings
"Rick Joyner Knighted by the Knights of Malta," http://sherryshriner.com/rick-joyner.htm
NAR pastor of Bethel Church in Redding, CA. Bill Johnson, who has a popular school of ministry and is the source of the popular music group Jesus Culture, teaches that Jesus had to be "born again", https://www.youtube.com/watch?v=BIpVvz63IAg
"In response to a question about how he cultivates gifts such as prophecy, Johnson replied, "When I taught my boys to ride their bikes I took them to the park where there was a lot of grass so that when they fell, they fell safely. You have to create a context for people to learn the gifts, to operate in the gifts of the spirit. You have to give them permission to not get it right. In fact at our school we actually require our students to fail three times their first year. At least three times or they can't graduate." – Bill Johnson from the article, "True Prophecies by False Prophets," https://midwestoutreach.org/2020/03/19/true-prophecies-by-false-prophets/
"The New Apostolic Reformation Cornucopia of False Doctrine, Dominionism, Charismania and Deception," http://www.piratechristian.com/messedupchurch/2016/2/the-new-apostolic-reformation-cornucopia-of-false-doctrine-dominionism-and-charismania
New Apostolic Reformation (NAR)
"The Kansas City Prophets," http://www.deceptioninthechurch.com/kcp.html
"Manifest Sons of God teaching," http://www.letusreason.org/Latrain1.htm
"Latter Rain Directory," http://www.letusreason.org/Latradir.htm
November Dream:
This does appear to be unfolding right in front of us, for right now the "obvious winner" of the presidential election is "not so obvious" as Trump takes voter fraud claims to court and ballots are recounted. And right now, just like in the dream, the democrat candidate is racing toward the White House. There are also protests around the country. I will post links below this video regarding some of these things. I await the further fulfillment of this dream in the days ahead, but it has begun.
This video of November 11th by End Times Productions presents the trap that has been set for Americans. Blue helmets were mentioned both in this November dream of Coverstone and in his first dream as well (in the orange shirt near the top of this article). There are at least two scenarios that could lead to those helmets in America.
"Proclamation on United Nations Day, 2020," an official proclamation of the U.S. president on October 23, 2020, https://www.whitehouse.gov/presidential-actions/proclamation-united-nations-day-2020/
Quote from the proclamation:
"The United States proudly remains the largest and most reliable supporter of the UN and its founding principles. It is in that spirit that we call on all nations to join the United States in working to ensure the UN continues to live up to its noble ideals of liberty, prosperity, and the pursuit of world peace.
NOW, THEREFORE, I, DONALD J. TRUMP, President of the United States of America, by virtue of the authority vested in me by the Constitution and the laws of the United States, do hereby proclaim October 24, 2020, as United Nations Day. I urge the Governors of the 50 States, the Governor of the Commonwealth of Puerto Rico, and the officials of all other areas under the flag of the United States, to observe United Nations Day with appropriate ceremonies and activities."
And if perchance you are a Christian who considers the UN to be benevolent here is an article that reveals their true colors: "United Nations: Mandatory Inclusive Sex-Ed Must Be Taught in School AND at Home," November 27, 2020, https://neonnettle.com/news/13386-united-nations-mandatory-inclusive-sex-ed-must-be-taught-in-school-and-at-home
and "UN Agency Forces Controversial Sex-Ed on Children in School and at Home," November 26, 2020, https://www.lifesitenews.com/news/un-agency-forces-controversial-sex-ed-on-children-in-school-and-at-home
Biden And Trump Supporters Clash In Lexington Over Election Results
"Biden backers and Trump supporters clash at Pennsylvania Capitol," November 7, 2020, https://www.ydr.com/videos/news/2020/11/08/watch-see-dueling-trump-biden-rallies-harrisburg-pa-president-election-protest/6209555002/
Trump Supporters Falsely Claim Election Theft, Clashes Erupt," November 15, 2020, (in Washington D.C.) "https://www.thequint.com/news/world/trump-supporters-falsely-claim-he-won-election-clashes-erupt-with-counter-protesters
"Vote recount in Georgia finds over 2,600 ballots in Floyd County," November 16, 2020, https://thehill.com/homenews/campaign/526234-vote-recount-in-georgia-finds-over-2600-ballots-in-floyd-county
"Election 2020 legal battles under way as judges weigh in on Trump lawsuits," in key battleground stateshttps://www.foxnews.com/politics/election-2020-legal-battles-trump-campaign-lawsuits-battleground-states
December-January dream:
In this dream of December and January, blackouts are predicted in the Southwestern U.S. even up into Canada in spots. This video by Christopher Green covers the fact that upwards to 200,000 Californians are about to have their power purposefully shut off for several days by PG&E. No one can figure out why they are about to do this. Makes no sense. Here is the AMTV link with this breaking news story (in the video, Christopher Green documents the sources regarding this): https://www.youtube.com/watch?v=z0BMEjAainQ To be continued….
Update: 12/03/2020
"Southern California Edison Cuts Power to Thousands of Homes on Thanksgiving Due to Wildfire Risk," November 26, 2020, https://www.cbsnews.com/news/california-power-shut-offs-possible-as-southern-california-edison-warns-88000-customers-of-wildfire-threat/?fbclid=IwAR0DOU2WQbulni2W-jB42b2y9dmbOfHbyLpClyaczfdlCRI_LEJY_shQEUk
This dream of December/January also speaks of depression wearing a mask with a sinister smiley face on it who is pushing people down in deep dark depression. Pastor Coverstone also saw food lines in this dream. Here is an article from November 27, 2020 that addresses both food lines and depression: "We Haven't Seen This Much Suffering On Thanksgiving Since The Great Depression," https://www.zerohedge.com/personal-finance/we-havent-seen-much-suffering-thanksgiving-great-depression?fbclid=IwAR37Ciu3AF8pceOhdz-uTlV3xKV7iwBa7Lzrh4HQqoDFuC9fAb3KUseGKaE
Here is a picture (from the above article) of food lines in Texas just before Thanksgiving.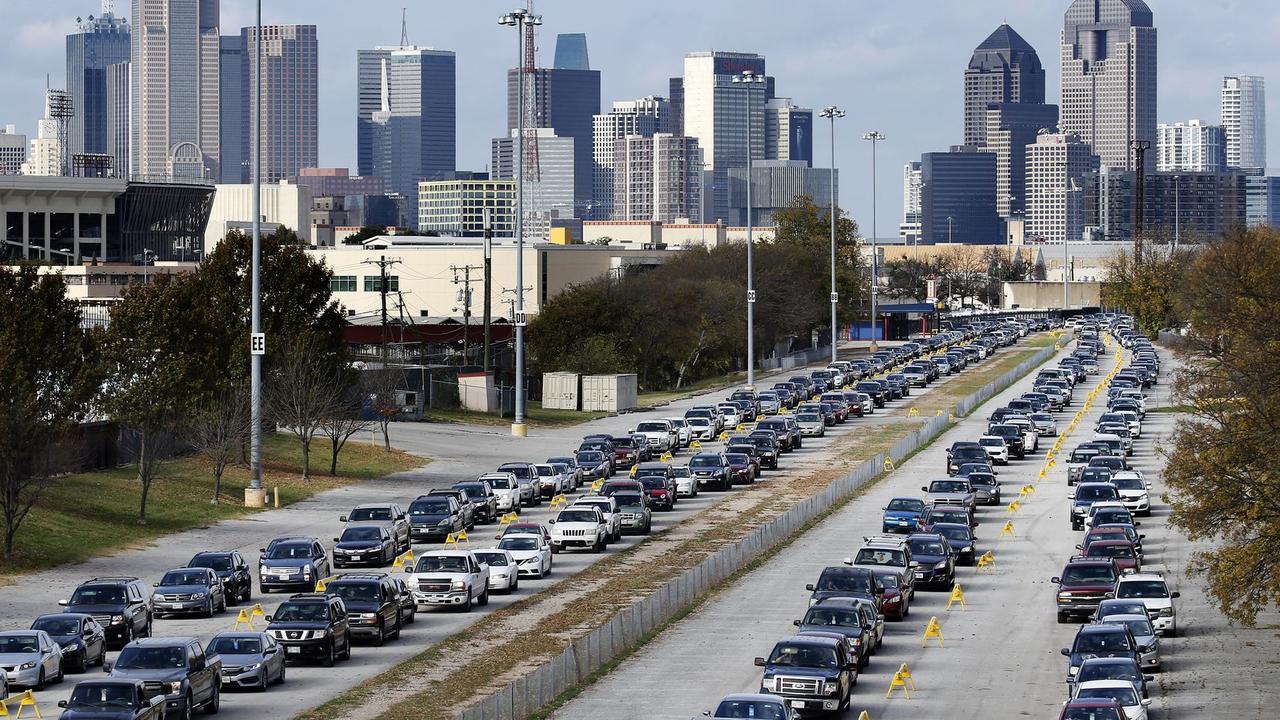 "Majority of U.S. Households with Kids Worried About Food Security as Millions Struggle," November 30, 2020, https://www.christianpost.com/news/majority-of-households-with-kids-worried-about-food.html
September 8th: Lady Liberty Dream
For commentary on this dream please visit this link: https://holylight4u.wordpress.com/2020/09/09/pastor-coverstones-dream-of-lady-liberty/
Renewal of the Bride:
This vision was recounted on September 22nd (even without a facebook account you should be able to connect and watch this link). We need to "be able to run, so stick to the instructions…Stay braced and occupy until I come."
September 14 dream plus a more recent dream: posted November 3rd
Dream of September 14th and Vision of September 15th: From Spirit to Flesh (posted October 9th)
This also recounts the vision of the Renewal of the Bride which was shared in the link above from the 22nd. The man in that vision of the Renewal is also the "lumberjack" in the dream that Coverstone talks about in this video. The lumberjack dream is about the death of a tree in a field of trees (Maple?) which have come to life from the top down. The large significant tree in the field of trees that is tapped by the lumberjack likely is symbolic of something demonic, for trees do not bleed nor do they grow from the top down. Usually in the Bible trees are symbolic of angelic entities/principalities or a nation or a human leader, like in Ezekiel 17 and 31 and also Daniel 4. So, something demonic is going on, and this year has been important regarding this.
Dream of September 26th: Ready or Not
This dream portrays an epic battle scene akin to The Lord of the Rings, and either Christians will be ready for the ensuing spiritual battle….or….they will not be ready. There is no in between. This reminds me of Coverstone's dream of November, wherein the white spirit says that those who have not prepared will be found wanting in the end. So, which are you? Ready? Or, not?
October 20th: Death of a Candidate
Along with a presidential candidate lying in state on December 17th, this dream also addresses the destruction of liberty from the west to the east and a possible shut down of the grid/internet. Pastor Dana does not give an interpretation, but these are my initial thoughts regarding the symbolism in this dream.
Dream posted October 28th: Hold Your Breath
Dream of Americans doing normal things that are suddenly taken off guard by rising waters, but how Christians are braced and ready and unafraid. In the end Christians are encouraged to remain braced and to hold our breath a while longer.
Dreams published November 3rd: The Quaking of America: "Now It's Up To You Church," and the Prayer Wall.
One of these dreams is from September 14th and the other is more recent.